Welcome to St Brelade Battle of Flowers Association
We are a small group of enthusiastic volunteers who enter the Battle of Flowers Parade that takes place in Jersey, Channel Islands on the second week of August on Thursday and on Friday night (Moonlight Parade), and it is always a great day. In the St Brelade Battle of Flowers Association, we are a dedicated team willing to work together to produce fully floral 45ft floats each yea…
Read more
Do you have any old St Brelade photos?
Please send them to us by email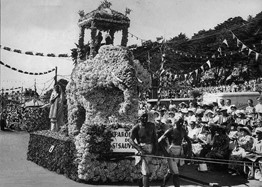 The Battle of Flowers 2018 is now over, the Association will return in 2019
24/10/2018
The Association is holding a sale for Float Costumes, Clothes and Books, at the Shed in La Rue Carre, St Brelade. The Sale starts at 10am until 3pm on Saturday. Please come along to show your support and grab a bargain.
Read more